Previous Litter Detail
Chief and Suzie (1st litter)
10 Puppies, six boys and four girls!
Click any pic for bigger view.
Sire: Joshua's Snow Chief of Northern Woods
Dam: Suzie of Northern Woods
Suzie and Chief had a beautiful litter. Nice variety of colors, BEAUTIFUL PUPPIES!!
We have been long awaiting this litter and it is finally here.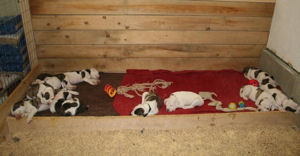 Suzie's 10 puppies at 7 weeks old.
THE GIRLS

Puppy #1

Female

"JaydAnn"

3 weeks and 3 days

5 weeks and 2 days

7 weeks

Updated pics

Another updated pic!

Puppy #2

Female

"Kayzee"

3 weeks and 3 days

5 weeks and 2 days

7 weeks

Puppy #3

Female

"Lola"

3 weeks and 3 days

5 weeks and 2 days

7 weeks

Puppy #4

Female

"Jemini"

3 weeks and 3 days

5 weeks and 2 days

7 weeks

Updated pics

Latest updated pics!

THE BOYS

Puppy #1

Male

"Pretty Boy Floyd"

3 weeks and 3 days

5 weeks and 2 days

7 weeks

Updated pictures

More updated pictures

Newest updated pictures!

Puppy #2

Male

"Maxx"

3 weeks and 3 days

5 weeks and 2 days

7 weeks

Updated pictures!

Puppy #3

Male

"Riggs"

3 weeks and 3 days

5 weeks and 2 days

7 weeks

Update pic!

Puppy #4

Male

"Hemmi"

3 weeks and 3 days

5 weeks and 2 days

7 weeks

Puppy #5

Male

"Boomer"

3 weeks and 3 days

5 weeks and 2 days

7 weeks

Updated pictures

Another updated picture!

Puppy #6

Male

"Kilo"

3 weeks and 3 days

5 weeks and 2 days

7 weeks